وظائف وأعمال
طيران الامارات يطلب موظفين للعمل بالخدمات الارضية بالمطار من مصر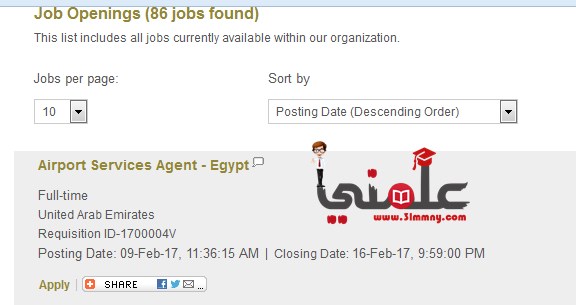 Airport Services Agent – Egypt
–
1700004V
Working under the direction of senior Airport Services colleagues, to represent Emirates and enhance passenger service to both arriving and departing passengers. Ensure all operational criteria are completed within specified time frames as per the criteria set forth by the company's commercial, safety and security policies, standards and procedures.
Job Accountabilities:
Provide assistance to passengers on arrival and departure, ensuring high quality and professional passenger service is maintained at all times. These include ascertaining the requirements of various categories of passengers such as unaccompanied minors, passengers with reduced mobility etc. ensuring appropriate special services and facilities are provided to meet the special service requirements of the passengers.

Co-ordinate the airport operation of chauffeur-driven limousines for eligible passengers after arrival, and open the Emirates arrival information desk.

Monitor the arrival immigration problems, retrieve relevant documentation and report accordingly ensuring adherence to all procedures with regard to travel, immigration and safety regulations.

Monitor check-in including 'queue-combing' to keep passengers informed of checking delays, identifying and giving priority to Premium passengers and ensure service standards are maintained.

Assist in the preparation and completion of pre and post flight documentation and statistical information to ensure all data is accurately accounted for.

Provide cover in the absence of the senior team members during leave/sickness/training as directed by the Airport Services Officer or other senior colleague.

Assist in dealing with problems such as delays, disruptions, excess baggage or denied boarding including implementation of 'Options' within the guidelines provided by the Senior Staff on Duty in order to retain Passenger confidence and loyalty. Also ensure eligible passengers are provided with accommodation and transport as per applicable procedures.

Where required, assist with check-in, boarding at the gates as per laid down procedures, provide announcements, and carry out hand baggage removal, handling of late-to gate passengers, flight coupon reconciliation and head count confirmation to ensure safe and on time departure of flights.

Monitor baggage delivery performance against agreed standards, keeping passengers informed about any delays or irregularities with their baggage to maintain an efficient baggage delivery service to passengers and monitor files creation and quality of baggage services as per Emirates Standard Operating Procedure.

Support and cover the Emirates Ticket Desk, where applicable, and undertake ticketing/reservation duties to ensure seamless service to passengers.

Carry out Credit Card verification and travel document checks diligently.


Admin Accountabilities (back office duties):

– Undertake various administrative functions as directed from time to time by the Airport Services Manager/Airport Services Officer/Airport Services Supervisor.- Provide comprehensive support to the ASM/ASO in developing rosters for the team. Ensure all discrepancies in attendance are highlighted in a timely manner so that it does not impact month end payroll processing.- Plan & assist with the execution of ad hoc projects/assignments liaising with relevant internal/external stakeholders and provide updates to management on the progress and of any concerns that needs escalation.- Respond to queries, complaints and claims in an efficient and timely manner in order to restore passenger confidence. Assist with enquiries from CASA and other authorities.

– In the event of resource shortfalls, provide frontline assistance and support to the operational team. Assist with flight delays, disruptions, excess baggage or denied boarding, including implementation of the "Options" Scheme, within the guidelines provided by management in order to retain customer confidence and loyalty. Make/amend reservations as and when necessary.

– Ensure post flight activities are completed such as compilation and dispatch of TLS, reconciliation of flight coupons and assemble flight file so that future queries can be dealt with. Ensure expenditure on meals and accommodation for transfer or delayed passengers are in accordance with company procedures.

– Ensure all invoices are processed within specified time frame, as per Accounts SLA.

– Monitor and replenish stocks of revenue and other airline stationery to ensure a smooth operation.

– To create and maintain appropriate record and filing systems for easy retrieval and proper maintenance of records.

– Coordinate with service suppliers for regular, preventive or in the event of breakdown of office equipment. Ensure all deficiencies are accurately reported/logged and corrective action is taken to maintain to EK standard of service.

– To ensure that correct action is taken by the GHA in respect of any AHL or OHD on the flight and ensure that subsequent follow-up action is taken and that passengers are kept informed.

– Share responsibility with Airport Services Manager/Airport Services Officer on the induction process of new hires into the department by conducting briefing sessions on administrative matters.
Qualifications & Experience
10 years schooling or equivalent.

2 years of Airline Industry experience.

Must have completed relevant and recognized professional training courses in Passenger Services and Ground Operations.

Knowledge of Basic Fares and Ticketing.

Customer Service Delivery.

Fluency in written and spoken English and Local Language.
Must have the right to live and work in Egypt (position based in Cairo).  
 Salary and Benefits The Emirates Group is a highly profitable business with revenue of US$21.1 billion and over 50,000 employees. The Group comprises of dnata, one of the largest air services provider globally and Emirates airline, the Group's rapidly expanding and award-winning international carrier. Within the Group there are a diverse range of businesses which offer a wide spectrum of career opportunities, all of which can be explored through the Group's dedicated careers website, emirates.com/careers. Emirates flies one of the youngest, most innovative fleet in the sky to over 130 destinations across six continents and dnata's network now extends across 100 locations worldwide. With our international network constantly expanding and opportunities arising in countries/cities outside of Dubai, we are looking for career motivated individuals to join our operations in their home countries. We offer our employee's competitive remuneration packages, attractive travel benefits, and career development supported by multi-million dollar training facilities in Dubai, and e-Learning programmes for those seeking a long-term future in the Company. 
Job Category
: Airport Operations
Primary Location
: United Arab Emirates
Job Posting
: 09-Feb-17, 11:36:15 AM
if you cant enter to the link to apply for this job/ just open this link : Ground
then choose page number 3 and you will find the job in the first in page
good luck guys ' muhammad
تابعونا على جروبنا الرسمى على الفيس بوك